ABOUT BREATHE
Ssshhh…Quiet, please!
Breathe Skin & Body is a sanctuary for the body, mind and soul. Please switch off cell-phones upon entering to ensure a relaxing and tranquil visit.
Booking Appointments
Appointments are highly recommend to guarantee your desired date and time at Breathe. On some occasions, services may be available same or next day, so please do not hesitate to call for a last minute appointment – I'll always do my best to fit you in! Book Online
Housecalls
When you prefer the privacy of your own home, Breathe Skin & Body will bring its massage treatments to you. Ask about rates and availability.
Cancellation Policy
Please notify me by phone or email within 24 hours if you need to cancel or reschedule your appointment. This allows time for another client to book that time slot. No shows & last minute cancellations will be charged a 50% cancellation fee. Thank you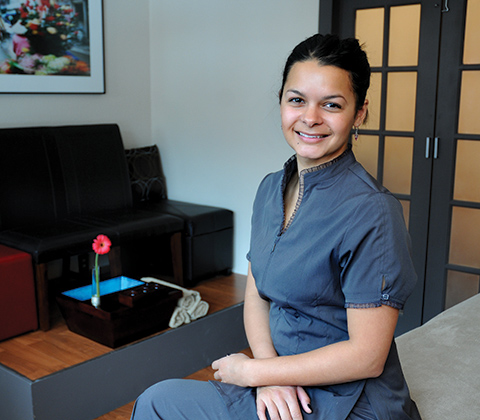 Escape to Breathe Skin and Body, a Telluride Sanctuary
Feb 14, 2011
TELLURIDE – Cold and wind-chapped, I step into Corinne Schreckengost's new spa, Breathe Skin and Body. Warm shades of chocolate, taupe, and slate grey engulf me as Schreckengost, in her lilting Scottish accent, offers me tea before beckoning me into the sanctuary she recently created.
"This was my little dream – something small and private," she says as I follow her through slidin
g glass doors into her treatment room, which overlooks main street and drinks in expansive views of Bear Creek. Early afternoon sun streams in through floor-to-ceiling windows, sending rays across a massage table and pillow-laden leather couch.
"Maybe it's a small town thing," Schreckengost continues, "but I always wanted to create a private space for my clients. Sometimes, in Telluride, it's hard to get away from people. This is a place to get away."
I slide between sun-warmed sheets, and prepare for my own escape: A two-and-a-half hour vacation, for both body and mind.
With the Jan. 1 opening of Breathe Skin and Body, Schreckengost realized a long-held aspiration – to be able to practice her trade in her own intimate space. She has been a massage therapist and aesthetician for the last twelve years, working in spas across the world. The last six years were spent at Telluride's Atmosphere Spa, an experience she says helped prepare her to take the next step in opening her own business.
"Over time I began to crave my own little area; a place that would really feel like mine, where I could create the energy of a private sanctuary," she says. The space above Cashmere Red emerged as the ideal location for Schreckengost's new venture. In another life the space had been a wing of a bed-and-breakfast, but has since been transformed (thanks to the handiwork of Schreckengost's husband, Brett) into a cozy haven, where Schreckengost now offers treatments ranging from massages and facials, to manicures and pedicures, waxing, lash-tinting, even Reiki.
Schreckengost is truly a master of her many crafts, her years of professional experience imparting a subtle poise and easy confidence to all that she does. She admits that her passion for her vocation began well before she began her training at home in Scotland. "I've been interested in skin care since I was ten years old," she says.
Prior to moving to Telluride on an 18-month work visa in 2004, she had honed her skills in different vacation locales around the globe. She worked on cruise ships traveling in Alaska, Hawaii, the Caribbean, Australia and New Zealand, then spent a year apiece working at resorts in Saint Barts and Sydney. Her professional cache was effectively realized when she moved to a ski town – Telluride – where she promptly met and eventually married Watch photographer Brett Schreckengost.
Owning her own space has allowed Schreckengost to create her own unique menu of services, which cater to a wide range of clients. Breathe specialty facials feature enzyme and propolis-based products from Epicuren, one of the skin care industry's leading companies.
"I wanted something more natural, without parabens, but also something that gave results," she says. After a representative from Epicuren gave her a facial this fall, Schreckengost knew she had found the skin care line she had been looking for. "It delivers a higher level of results because it uses things like peptides, enzymes, and collagen, which work on a deeper level than products that just lay on the surface of the skin," she explains, noting that in Telluride's very solar and high-altitude climate, a more high-level skin care product is called for.
The Breathe menu also features an entire section dedicated to expectant moms, from the Mellow Mama maternity facial, to the Yummy Tummy "omega-rich facial for your tummy," to a specialty maternity foot massage and pedicure (using formaldehyde-free, Sparitual brand polish). All maternity treatments feature Mama Mio skin care products, which are all-natural and formulated specifically for pregnancy.
Men haven't been left out of Breathe's forte either, with male-centered treatments like facials, MANicures, and pedicures available in "The Grooming Lounge."
Schreckengost also offers decadent massages (Swedish, deep tissue, aromatherapy, and warm stone massage, which are all available for house-call, for those who prefer the comfort of their own home), as well as traditional manicures, pedicures, and waxing. The Breathe menu also boasts "Mini Services" as well as extravagant Combinations – like the Mountain Mama: A 30-minute back massage, 75-minute Epicuren facial, and a pedicure.
Schreckengost is trained in Reiki as well, which utilizes techniques that help restore balance amid the body's energy channels. Although clients can make Reiki-specific appointments, Schreckengost says that her Reiki background – which focuses on tuning in to her clients' imbalances and attempting to reconcile them – flows into every treatment she offers.
Perhaps it is her Reiki background that manages to coax a loftier level of relaxation, but I feel not just renewed, but wholly a different person following my two-and-a-half hours of Mountain Mama bliss.
"I really want people to come here and feel at home," Schreckengost says. If home is a sunlit-warmed sanctuary where the cold and bustle of life outside is left at the front door, replaced with an encompassing sense of quietude, then Schreckengost has indeed created the space she intended.
Breathe Skin and Body is open Tuesday through Saturday, 10 a.m. to 6 p.m., and by request Mondays, Sundays, and evenings. For appointments call 728-9772; 970/497-0019, or email Schreckengost at breathintelluride@gmail.com.